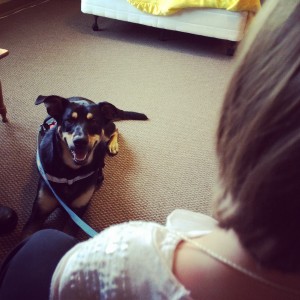 This week Willie's sisters came with him while he went to work. The first thing Mr. Joe asked was if he could have a hug and both girls complied. His face lit up with a smile. Although he can't see completely, he could tell that they were young. We told him that after our visit we were heading to Chick-fil-A to be cows for Cow Appreciation Day, and he smiled again.
It's those little things like a hug and knowing what other people's lives and schedules comprise of that make all the difference to someone who is living in a new place with new surroundings. I am glad our girls got to see his life, too. I can remember how I would visit residents with my parents when we would visit our grandparents at Martha Franks. I remember being shy, but I know those memories have stayed with me. That time giving and seeing others has shaped who I am.
Seeing the girls take the cross necklaces that Mr. Joe gave them and seeing them fiddle with those necklaces for the rest of the day makes me think perhaps this short visit will last longer than just the short time we spent there.