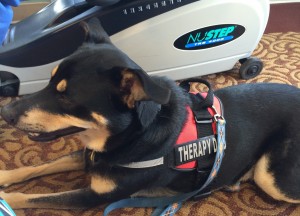 Last week, Willie and I went back to visit the Assisted Living facility where we have been going this summer. Willie was excited to be back in his vest after having been on vacation for the past two weeks as I did hospital visits. He was even more excited to see his friends at the facility again. He even left the tennis balls that some of the residents have on their wheelchair break handle alone this time!
There was another dog visiting this time and Willie made sure to meet and greet that dog, but also made sure to the dog knew that there were certain residents that were his. Now as I sit down and visit with the residents, Willie immediately goes into his down stay position without a command. He knows what his job is.
It's amazing to see the residents respond to him and the way that his presence opens up conversations about their lives and their families. I can't wait for Willie to take his test for hospital in the coming month so that we can spread his smile with lots of other people!
Let us know if you would like Willie to come and visit!