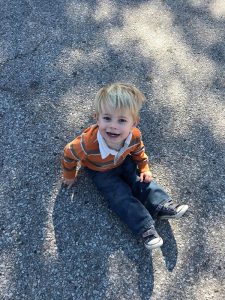 I've heard from many Toddler Mamas that you will do a lot of waiting. Waiting for your toddler to eat, waiting for your toddler to speak in more than just those words and phrases, waiting for your toddler to buckle his or her own shoes, but on Monday I found myself waiting in the middle of the parking lot.
This wasn't a sit-in protest of being hurried out of the line of cars or onto the next activity or next stop on our list of things to do. This was a sit and see. He was genuinely interested in the touch and feel of the asphalt. He was fascinated with the way the shadows were playing on the gray surface and that he could make the shadows move by moving his hand. He was in awe.
15 When the angels had left them and gone into heaven, the shepherds said to one another, "Let us go now to Bethlehem and see this thing that has taken place, which the Lord has made known to us." 16 So they went with haste and found Mary and Joseph, and the child lying in the manger. 17 When they saw this, they made known what had been told them about this child; 18 and all who heard it were amazed at what the shepherds told them. 
In the midst of Advent, there often isn't time to be in awe. We are booked to the brim with shopping and celebrations with family and friends. We are waiting and preparing for children's programs and worship services. In the midst of all the hurrying, there is time to wait and wonder, even if it's a in the middle of a parking lot watching shadows.