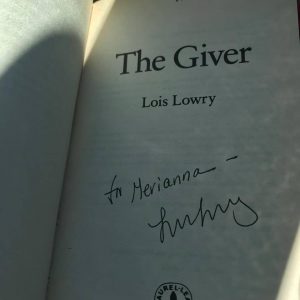 I don't know about you, but within me there are dreams and wishes that I hold close to my heart. Sometimes these dreams are never uttered and never spoken. Something about dreams feel fragile as if exposing them to light or to the spoken word would scare them off and make them disappear forever, never to be seen or heard from again. Something about dreams feels intensely personal. The revelation of dreams feels vulnerable and intimate in a way that is often uncomfortable. Dreams reveal the most passionate and the most intimate aspect of who you are and what centers and anchors your very being.
As a reader, there was one book that was so influential in my understanding of the written word that it has followed me throughout my life. I first encountered the author, Lois Lowry in my fifth grade English Language Arts class where we read Number the Stars. I can remember my draw to the way she told a story; a story of history, but through the eyes of a young girl. And then I happened upon The Giver in sixth grade. Our English Language Arts teacher was new and didn't last but a couple of years in the school I went to, but the book I read during free reading has stayed with me for 21 years. The world Lowry created was so foreign and so familiar at the same time. It was my first taste of dystopian literature, which I have loved every since. The Giver was the first time I understood symbolism and figurative language. This unlocked an understanding within me that words were an invitation to new worlds, new understandings, and new adventures.
As a young college student learning to become a teacher, we were given the invitation to read The Giver again and I gladly took it seeing with new eyes the way the story could be an invitation to young readers and writers. We engaged in a heated debate about whether the characters at the end of the book survived or were lost to death or oblivion. As I taught, I read portions of this book as mini-lessons hoping and praying that one of my at-risk students could hear the invitation to imagine and dream about other worlds. Last year in a conversation with my friend, Elisabeth, she encouraged me to reach out to authors who had meant something in my life. I searched for an email address and composed a letter about the impact of the book Son on my life:
Just last year, I happened upon Son (how I had missed it, I'm not sure) as I was recovering from an emergency C-section that left me feeling out of place.

Your words have followed my journey in life and have opened my eyes to possibility and hope. I am now a pastor (something my community of faith would have never supported) and an independent publisher. Thank you for teaching me courage and bravery through your characters and helping me to see in full color.

And this response came:

Thank you so much for writing. Letters like yours remind me why I do what I do. Congratulations on your son and best wishes for the future. Lois Lowry
I had no idea if it was truly her response or an agent or social media manager, but it didn't matter. I was awe-struck. A year later in the same month, Lois Lowry was scheduled to come to Columbia for a series of events highlighting the power of Storytelling. There was a Thursday night event and a Saturday morning family event. I went to both amazed and astounded to hear her voice in person. She recounted in her Thursday lecture about a series of emails she had with a young student, and I knew then she was the person who had responded to my email. The line was long on Thursday night and although I had brought my books to be signed, I didn't wait in the line.
On Saturday morning. she spoke again and because we had missed the morning signing, the line was short to have books signed after she spoke. I took out my stack of books stuttering trying to explain how much each of them meant to me and how glad I was that she was still touring and speaking. My heart was beating quickly, my palms were sweaty. This is what happens when dreams comes true.
It would have been easy to explain all of this away. A series of unconnected events. Meeting an author isn't all that uncommon. Having books inscribed and signed isn't all that uncommon either. But meeting the author of the book that first introduced you to symbolism and whose book called Son you discovered only months after having your first child and then seeing your name in that author's handwritten is something magical and mysterious.
But none of this would have happened had I not uttered aloud my dream: to hear and see Lois Lowry in person. A dream long held within, never hoping to see the light of day because she just doesn't tour in the part of the country where I live very often and million other practical reasons that try to shadow the light that dreams coming true brings to the world.
Dreams coming true, our true selves being brought to the world, always whispers of connections much more mysterious and mighty than we, in our limited understanding, can comprehend. That's why we must let these dreams flow forth from our hearts and our souls. We must risk letting these dreams out so that the magical mystery of hope can flow freely into our world.