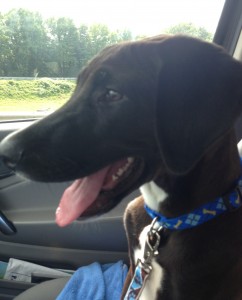 Waylon was adopted in August of 2014. We were looking for a brother for Willie when we moved to Columbia, SC and Waylon was just the right fit. Waylon was found on the streets and the Spartanburg Humane Society doesn't know how long he had been on the streets. Waylon was four and a half months when we adopted him. The Humane Society calculated his birthday to be February 26.
Here's a video of Willie and Waylon meeting for the first meeting!
We don't think that Waylon can be therapy dog trained. We adopted him much later than Willie and his scrounging and survival skills from being on the street are still a part of his nature. We do know that he will be a great asset in helping training future members of our pack!