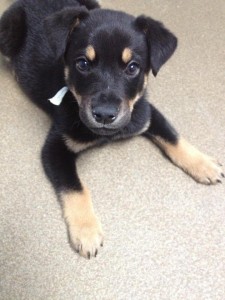 Willie Nelson was adopted in 2013 from the Spartanburg Human Society. He came to the Humane Society because his mom got pregnant and unexpectedly and her owners did not want puppies. We think he had just one brother who was completely tan with a black muzzle. We know that he is a German Shepherd, but aren't sure what he is mixed with as his mom's owners aren't sure who the dad of the litter was. Willie was adopted at 13 weeks. His birthday is October 31.
Willie loves running and hiking! He lived in Asheville, NC with us his first year of life and loved going to the French Broad River Dog Park and the Biltmore Estate. He does not like water or taking a bath, although the treats at Soapy Dog were sometimes worth enduring a bath!
Willie did an initial assessment with a police dog trainer in Asheville. After the training, Sam was told that Willie had the potential to train to be guide dog or therapy dog. We have been working on training Willie through his first year of life and are excited to have him evaluated for the American Kennel Club's Good Citizen certification this summer. We'll keep you posted on his progress!