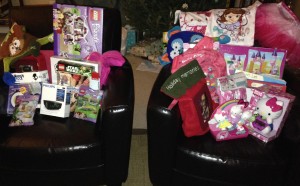 We celebrated Christmas morning this Saturday with our girls and it was a wonderful time of excitement and fun, but in order to enjoy this time together, Sam and I had to wait our turn.
It's hard, especially during the holidays, to juggle schedules and time when you are sharing kids. You have to be flexible and let go of your own expectations and wants so that the celebrations can truly be about your kids and not about what you want. My journey into motherhood has been different than most and if I'm honest, I have to admit, there are times that I want it to be the way I want it to be…or really I would settle for the first plan we make.
But thanks to my patient husband, I am learning that's not what parenting is about. Parenting is about selflessly giving for the sake of your kids and giving up what you want for what's best for your kids. An important lesson for me this Christmas as I pastor a church and learn to be a wife and a mother.