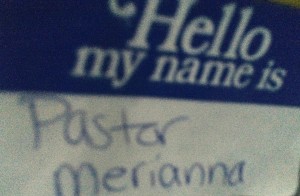 This past week has been quite busy for my life as a pastor. We helped with Bible School at a partner church, so that they could offer a preschool class as well as hosting our first Emmanuel's Table. It was an exhausting and exhilarating week as we coordinated pick up for the food and for people who wanted to come to eat in addition to coordinating interviews with the local news station and The State newspaper.
This morning I looked at the lectionary passages as I do on Monday mornings thinking and praying about what passage would be right to study and to prepare to preach. Genesis 32:22-31 is a part of this week:
32:22 The same night he got up and took his two wives, his two maids, and his eleven children, and crossed the ford of the Jabbok.

32:23 He took them and sent them across the stream, and likewise everything that he had.

32:24 Jacob was left alone; and a man wrestled with him until daybreak.

32:25 When the man saw that he did not prevail against Jacob, he struck him on the hip socket; and Jacob's hip was put out of joint as he wrestled with him.

32:26 Then he said, "Let me go, for the day is breaking." But Jacob said, "I will not let you go, unless you bless me."

32:27 So he said to him, "What is your name?" And he said, "Jacob."

32:28 Then the man said, "You shall no longer be called Jacob, but Israel, for you have striven with God and with humans, and have prevailed."

32:29 Then Jacob asked him, "Please tell me your name." But he said, "Why is it that you ask my name?" And there he blessed him.

32:30 So Jacob called the place Peniel, saying, "For I have seen God face to face, and yet my life is preserved."

32:31 The sun rose upon him as he passed Penuel, limping because of his hip.
The reason that this passage is significant not only for the wonderful story about identity and walking into a new identity, but it was the first passage I preached on the first time I preached at Gardner-Webb University. This is fascinating to me because this past week's Old Testament passage was I King 3:3-15, which was the first passage I did an exposition paper on in seminary. These passages are books apart in the Old Testament and yet they both have significance for me in my training to be a preacher and pastor just as last week and the work that we did as a fellowship will always shape who I am as a pastor. This past week also marks a year since Sam and I moved to Columbia.
You can call it coincidence or provide mathematical explanation for the way all of these significant event aligned to these two weeks, but I have to confession that I won't be impressed. I won't be impressed because I've learned to not dismiss these kind of connections because they just might be a breath of the divine trying to breathe new life in the world around us. It might just be the divine trying to remind me that this life and this journey is not about me at all, nor my identity, but rather is about the kingdom of God coming here to earth and whispering to those in need of hope and in need of faith.
As I was looking over that sermon on Genesis 32, I lingered on these words written two years ago to share with my professors and classmates:
Jacob had wiggled his way through societal expectations and no passing points throughout his life. He had wiggled his brother's birthright from him with a little cooking. He had wiggled his way into being the one blessed rather than his older brother Esau with a costume change and as we encounter him in this text, he had most recently wiggled the best of the flock from his father-in-law.

In our passage today, Jacob finds himself at a no passing point with no loophole available.
As churches, we have wiggled into believing that we are no different than a lot of businesses, but when we are in the business of transforming lives, we have to come to these no passing points where we decided who we are going to be as pastors and preachers and as churches. Are we going to keep looking for loopholes or are we going to bring the kingdom of God here to earth.