This song is based on a true story, not the story of the Midlands area this week, but it could have easily been based on what we have experienced. It was unbelievable to watch as our grocery store and the restaurants we frequent were submerged under water.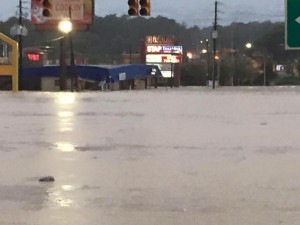 Even more devastating were the stories we have been hearing over the past two days of the people we know who have lost everything including their businesses and livelihood, like our vet who has taken such good care of our pups.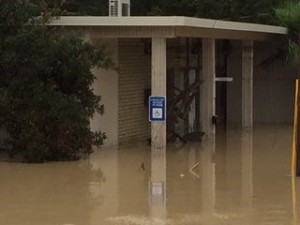 And the people of the Victorian Lakes Mobile Home Community who our church has been working with for over year. We found out today that the homes they had to evacuate have been condemned and they will have to start all over, many without any kind of insurance at all.
What do you do when the waters are rising and more and more suffering is happening? What can you cling to when this hits right after news of a mass shooting in Oregon?
As a minister, I am supposed to have the answers to those questions. I am supposed to know how to guide people to a better and broader understanding of the divine during these types of events, but honestly I get baffled, too.
I ask and wonder and grieve the loss of life.
What I do know is that the messages of hope and the offers to help our community and our neighbors in need whisper of something greater than even 18 feet of water rising. It whispers of the divine breath of life connecting and creating new partnerships and new life and of God's people joining in the re-creation process.
Amen. Let it be.