The presidential election results have sent many into a whirlwind of emotions. For some, these emotions are of finally being heard. For others, these emotions are filled with lost hope that they are central to the fabric of American life.
In the midst of these emotions and trying to come to terms with these emotions, ministers and communities of faith are wrestling with the role they will play in helping shepherd and guide their congregations. If our country is as divided as the presidential elections revealed, then our communities of faith have deep barriers to overcome in trying to offer a word from God and trying to stay together as a communities of faith.
Would it be better if we just divided into sides? Would it be better if we avoid any talk of political discussion in our communities of faith? Or has this election cycle revealed how our communities of faith shy away from dealing with the issues that American people have passionately and publicly voiced through their vote are important to them?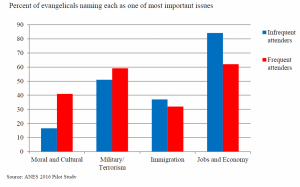 Where do we go from here?
We know the evangelical right played a critical role in the results of the election, but those claiming the identity of evangelical also share something else in common:
The key to understanding Trump's support among evangelicals is to realize that some evangelicals' commitment to the faith is shaky, too. Trump does best among evangelicals with one key trait: They don't really go to church.
Or at least they didn't in March of this year. We'll have to wait to see if the election results changes that trend, but this isn't surprising since church attendance and identification with a religious denominations has been on the decline and communities of faith have felt the impact of this trend in budgets, but could our communities of faith's fear of addressing with hot button issues have contributed to the results of this presidential election? Could we have impacted the leadership of our country by addressing issues that are plaguing Americans rather than shying away in favor of safe, easy sermons? Could we have been more relevant in our teachings and in our ministries?
These are questions we will have to wrestle with as ministers and communities of faith as we desperately try to play catch up and regain our voice in the lives of millions of Americans who are now not only hurting, fearful, and angry, but are also divided into us vs. them.