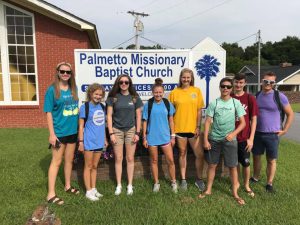 Last week I took six youth, one college student, and one young professional down to Conway, SC for Youth Missions Week. I am not a youth minister, but when I found that 25% of my current congregation was youth, I knew there was something missing in the life and work of our church. We needed our youth to have meaningful experiences. We need our youth's questions and wonderings. We needed to invest in mission experiences and devotion times and jumping in pools and getting caught in the rain. These are the experiences that help our youth understand what it means practically to live a life as a Christian.
And so we packed up three cars with suitcases, food, and crafts and headed to the coast not knowing exactly what we would encounter. We knew of the good work Palmetto Missionary Baptist Church was doing with Palmetto Kids. We knew that partnering was powerful and so we showed up with willing hearts and willing hands to help pitch in. As it turns out, the teachers and youth groups that Palmetto Missionary Baptist Church usually have come to help them in the summers weren't able to come this year: the same year we felt called to partner with them in their work. Crazy how the Holy Spirit moves and works things together, isn't it?
As we taught and played game and painted and crafted, we were overwhelmed by the connection we formed with the Palmetto Kids. How could that happen so quickly? How could we do more to help at risks students? Our work was tiring, but inspiring. The faces of those kids, the laughter, and tears as we worked and studied alongside each other is not something we will soon forget.
This is church.