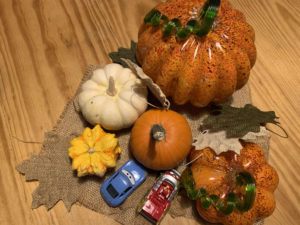 October always marks a season of remembering for our family because it is when our family became a family. This year Sam and I celebrated six years of marriage and six years of creating and learning and growing together. There's a lot about this season that feels familiar with the high chair back in the kitchen and the inspections of the floor for legos that might find their way to the mouth of a curious younger sibling, being partners not only in life but at work, too. In other ways, this season feels all new. Having a middle schooler for the first time, having four kids in four different schools, moving into a new office.
I find myself wanting to remember everything about this moment. The cars that find their way to the fall centerpiece. The toys strewn across the living room. Sparkly pumpkin costumes. Blanket-built forts. The late-night conversations with my partner about theodicy, parenting, and the origins of the Ceaser salad.
I wonder if the most miraculous work of the Holy Spirit is the way that we become and create family together. The way that we bring in tastes, experiences, personalities, passions, and dreams to live together in one space. Maybe the way that we create together and live together and eat together and cry together and hurt together and dance together is exactly what it means to be church.
Maybe in trying to figure out what our calling in this world is, we find our way home first. Then suddenly, the world and our place in the world looks a little bit clearer and a little bit easier because we aren't alone on the journey.