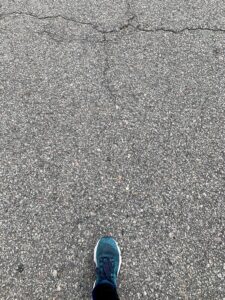 One of the routines we quickly implemented in the midst of our quarantine life was a morning walk. For all of us, it helped make the transition between home and school. It helped us breathe in the new day and to look around for signs of Spring and indeed signs of the Divine moving among us.
Our walk looked a little bit different. Instead of a stroller with a four-year-old walking beside, the four-year-old was on a bike and the seventeen-month-old was riding in a hiking backpack. I found myself looking down at my shoes noticing the steps I was taking and the way that even the way we started this life in the midst of a global pandemic is changing. Our kids are learning new skills and new things. We are growing and changing as a family as we work to intentionally include conversations about racism into our walks and learning.
I can promise you that I don't have answers and I can promise you that I will mess up this journey to be intentional about ways that I and our family have benefitted from a society and culture that values some lives over others. I can also promise that I will start the new day walking and seeking and noticing and reflecting.
I will keep reading and listening. I will keep walking in this new morning that has enlightened me to how much work still needs to be done.