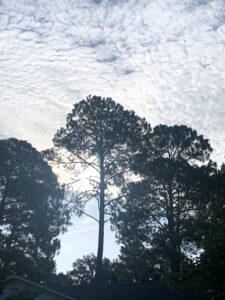 When case numbers in SC began to rise, I realized it was going to become more and more difficult to find light and hope. The climbing death rate, the uncertainty about the fall, and the growing unease among people were all causes to be on alert constantly. South Carolina now has higher case numbers than any other country in the world. South Carolina ranks number three on case numbers per capita. It feels as if the virus is closing in our state.
I know some people have taken the approach that "it isn't that big of a deal" or that "we are all going to get it," but after reading some of the potential long-term effects this virus could have on the neurological system especially, I simply can't come to those conclusions.
As the days seem to drift into a mundane routine, I needed a reminder that there was light all around. I needed a reminder that even if we are walking and biking the same paths over and over again there something new to notice. I needed the reminder that the Divine was among us.
Even as I asked for my eyes to be opened, I began to see morning light all around. I began to notice the subtle ways flowers bloomed over the course of a week, opening a little more each day. I began to notice the possibility that our morning walks and bike rides just might instill in our four-year-old and seventeen-month-old the desire to escape to nature when things seemed chaotic or scary. I began to notice that everything looks just a little bit more magical and mysterious in the morning light.
And I began to awake each day with open eyes and open hearts to the promise:
The steadfast love of the Lord never ceases;
    his mercies never come to an end;
they are new every morning;
    great is your faithfulness.