I am actually glad now that the Humane Society gives you a couple of days before you can take home your puppy (although I have been rather worried about him, since he is still in isolation because of his cold!) because it gives you time to go through and attempt to puppy-proof the house.
Although I don't anticipate that I will ever be able to predict how he is going to behave, I figure a little bit of preparation never hurt!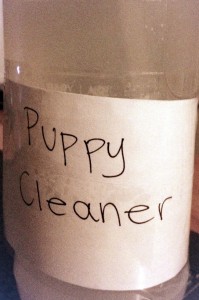 I went ahead and premixed a homemade puppy cleaner with a 2 to 1 ratio water to white distilled vinegar. We have hardwood and tile floors, so this will work great for the first action as we house train him!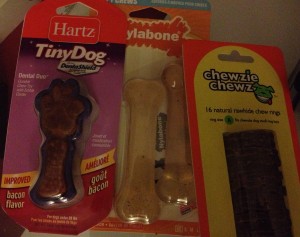 Here are the first three chew toy attempts. I wanted him to have one on the way home since we are going to have an hour and half drive, so I though the Hartz Chew N' Clean Assorted Colors Dental Duo Toy and Edible Dog Chew, Large
 would work well for that! I have also heard from other pet owners that getting pups used to regular Petsafe Premier Busy Buddy Gnawhide Refill Ring Dog Treats for Bristle and/or Bouncy Bones, Rawhide, Medium
was the best and cheapest option, so I hope these work!
Let the adventures begin!