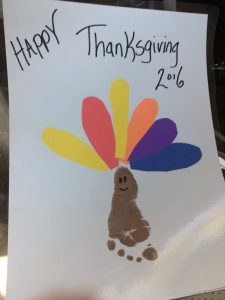 A week ago, Sam called to tell me that he had been in a wreck, which lead to a series of events that took over our week including doctor's visits, insurance calls, and rental car arrangements. It wasn't how we were expecting to spend our week and there were many times last week that I asked, "why did this happen to us?"
And then I on Wednesday when I picked Ben up, I got his first ever school craft. A simple reminder of the season of Thanksgiving that we are approaching. I looked at that footprint and remembered in the hospital the first attempt to take his footprints were too bloody to take home because of the glucose tests they had to do by sticking his heels and I remembered the week Ben was born and how I was left speechless by the miraculous power of life and birth and breath in Ben.
And a week ago I was reminded again of the beauty of life and breath as Sam walked away from the car wreck. I breathed deeply as I held this simple picture because even though our lives were overtaken and redirected last week, we were still together as family.
This is not an easy time to be a parent, to be a minister, or to be a family. It is hard work to redirect our thoughts to being thankful and grateful. It is is hard work to try to engage in the important work of trying to speak love into the divisive rhetoric we hear, read, and often repeat. It is hard work to stop and reflect and imagine what we could become together if we are thankful instead of ungrateful, selfless rather than selfish, and understanding rather than defensive. But this, this is the hard work we are called to do as partners, parents, and ministers.
And for a community of people who are working towards these same goals, I am thankful.