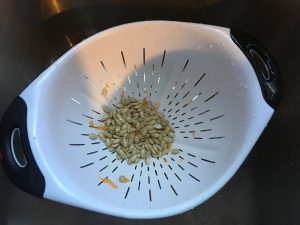 Yesterday, I made butternut squash soup because sometimes when I don't know what to do, I just have to create something, anything, participating in the creation process and begging Creator God to breathe life into the dustiness of humanity. It's a recipe I've made over and over again over the past year fiddling and tweaking with just the right amount of half and half to add to make it creamy, but not so creamy it's too rich.
As I went through the motions of peeling and chopping the butternut squash, I stopped myself from dumping the seeds into the trash because I remember one of my friends told me that she cleaned the seeds added a little olive oil, salt, and pepper and roasted the seeds to add to the top of the soup or a salad or just to have on hand for a little snack. So, I went through the messy process of cleaning the seeds, washing and rinsing the innards of the butternut squash off the seeds. I dried them off and then tried unsuccessful to hold onto the slippery seeds wondering why she had made it sound so easy when it was really requiring a lot of effort to get those seeds to the point of being able to put in the oven.
And I then I thought, this is exactly what I feel like right now in the midst of the last week, the first week in a reality that I'm finding it hard to gain footing in. I feel like I chasing down slippery seeds of hope, trying to grasp them and catch them before they go down the drain or onto the floor.
Because what I know is that these seeds of hope can be planted or roasted to provide sprouts of change or nourishment or fellowship or something transformative that can ground us to community and to love. I know this can happen because I've seen it. I've tasted these seeds of hope and change and fellowship and communion and I know they are good.
But it's going to take some wrestling to get the innards of hate and dissension washed off from these seeds of hope. It's going to take getting our hands dirty. It's going to take planting those in dirt and watering and waiting for them to sprout them or dousing them in olive oil and salt and pepper and enjoying the sustenance they provide around the table.
It's going to take work, time, and energy. Don't lose heart. Seeds of hope lead to seeds of change and new life.