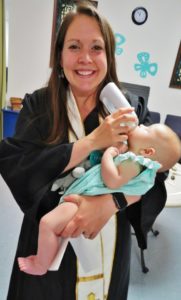 Our church photographer captured this photo after service and I can't imagine a better picture of what it looks like to be a Pastor Mom. I have so much help in an amazing partner and an amazing community who are so generous. With their help, I feel like I can truly step into both of these roles: inviting God's people to dream and grow and inviting this little one who joined us four months ago to dream and grow.
At times, I catch my breath because as a young girl I never saw a woman pastor. I never saw a woman preach. I never dreamed that this picture could be possible.  At those moments, I am caught up in the holy mystery that calls to our deepest selves. The holy mystery that whispers possibilities of wholeness and newness in ways we never imagined. That holy mystery beckons to each of us inviting us to see parts of ourselves long hidden or oft silenced. That holy mystery comes powerfully into our lives, transforming and changing us into new creations.
No matter where we are on this journey, the holy mystery offers us communion with something so much greater than ourselves and I believe that the holy mystery cradles us and offers us milk, safety, and rest for the journey we are on.
Perhaps the holy mystery is whispering during this Eastertide season to lay back and drink deeply resting in the truth that death has been overcome and transformation and resurrection are all around us.