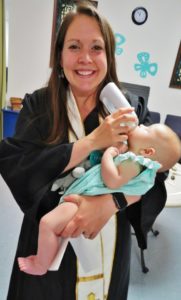 This week the pictures began to pop up on my social media feeds reminding me that it was just a year ago that I was commissioned as a spiritual director after a two-year certification program at Lutheran Southern Seminary. I was shocked to realize that it had only been a year since our last intensive when I had a baby in tow learning about the desert fathers and mothers for the last time in that kind of setting. Last June, I remember the greetings and the celebrations of being together. I remember everyone being surprised at the baby in my arms because the last time we had gathered I had been carrying her within me. It isn't surprising then that this baby almost a year to the date would choose this week to finish nursing. Her whole life has been inextricably tied to this journey to become a spiritual director.
As I was looking back at pictures, I found myself also looking back at our coursework. The study of men and women who were looking for a deeper relationship with the Divine, not in search of answers but in search of wholeness. My journey was the same. I wanted to know more about what I didn't know. I wanted to know more about how to walk intentionally and purposefully with people who were looking for healing and hope. I wanted to know more about this Divine breath that resides within my lungs.
Over the course of reflection, I looked back at the monastic daily prayer schedule. As I looked over the times, I looked at my phone calendar and realized, the times of prayer are awfully close to the times I have fed our baby over the last year. Perhaps there is something beyond coincidence to those parallel schedules. Perhaps much like an infant needs nourishment throughout the day, so too do our souls.
Perhaps there is something to humbling ourselves throughout the day remembering that we are not in control and we do not have the answers that provide our souls the nutrients they need to keep going. And perhaps after we have drawn close to the Divine, we find that the refreshment brings us much needed rest and peace.
May we listen to the cries of hunger from our souls and pause to give our souls nourishment throughout the day.