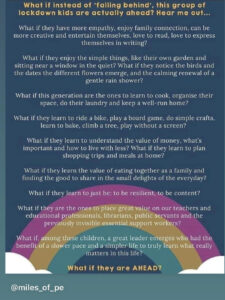 I found this on Instagram posted by a teacher friend and immediately felt a wave of relief wash over me. I quickly posted it to my stories and followed @miles_of_pe who shared it. (If you know who created it originally, I'd love to give credit!)
After I posted it, I received so many comments and responses from fellow parents. Parents who have been worried about sending their children anywhere because they aren't sure that it is safe. Parents who don't have a teaching background wondering if they are engaging their children enough or whether they are falling behind. Parents who have made the decision to keep their kids home for the fall. Parents who are planning to send their kids to school in the fall and are worried that the stint of e-learning last Spring caused them to fall behind.
What if…it's enough?
What if…our very concern over the well-being of our children is enough to help them know that they are loved and seen? What if…our sleepless nights and early mornings fitting in work before they get up and after they go to sleep is enough for them to understand that we are doing whatever we can to make sure they have time with us? What if…all those walks and outside time and playing in blow-up pools in the backyard is actually they're absolutely favorite thing to do even though they have done it every afternoon?
What if, dear parent, you are not just enough…but more than enough?