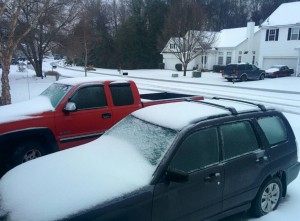 Of course the ice storm happened on a Wednesday, again.
I looked outside and it was clear that this one was worse than the last one. There was no way I was getting my car out and our road had not been scraped. I was stuck.
So, Wednesday morning started with being sure that the conditions where the church was were just as bad as they were on my back porch. Then, an email needs to be sent to explain that we won't be having services. Then, phone calls need to be made to the people who don't have emails as well as those who don't check their emails regularly.
Then, you can stop for a cup of coffee and enjoy reading for a minute.
Followed by checking your email and making sure that you have responded to anyone who has responded to your email that you sent. Followed by rearranging the schedule for Wednesday nights in order to postpone what was going to happen on the canceled service at another time and rearranging the other Wednesday nights to accommodate for the made up service that had been canceled.
Then, maybe there's time for a second cup of coffee and enjoying the snow day with your pups and your husband.