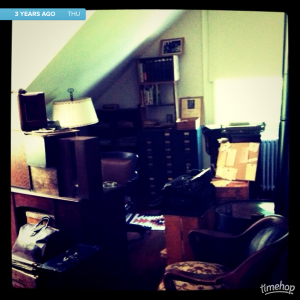 So, yes I have engaged in the Timehop culture that tracks what has come and gone. Yesterday, I ran across this picture as well as a myriad of others from the field trip we took to Carl Sandburg's house as a part of the Spartanburg Writing Project. First of all, there is no way I would have known that I would be living on that road when I moved to Asheville the following year.
Secondly, I can remember that summer most clearly because two very important things happened during the Summer Institute: I tried to write my first sermon, and I began to imagine what it would be like to live as  writer. I wondered whether my desk would look like this desk and I wondered what it would be like to have an inspiration chair sitting in the middle of the woods just waiting for a story to pass by in the mountain air.
3 years ago and now I am writing sermons every week, and I spend the rest of my week writing and looking for stories to publish. 3 years and my whole life is completely different than it was during the Summer Institute. As I walked around the house with my fellow writers, something inside of me shifted.
I was sitting on the rock by the water, journal in hand and no words to write because I didn't know what that kind of life would look like. I didn't know what to say. I didn't know what to imagine.
Now, the words flow from a picture, stirring a memory where a flame was ignited that changed one person's life utterly and completely.