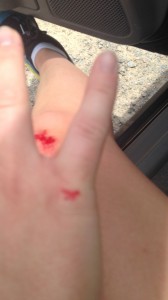 I thought I was going to miss out on National Running Day.
On Monday, I was taking the pups for a long run when Waylon decided that he was going to say hey to a security guard on the trail. He crossed in front of me (a big no no, for leash training) and I wiggle stepped on the side of the sidewalk and faceplanted. Yes, I mean all the way down, sprawled out on the trail. The security guard saw me and helped me up and we all hobbled back to the car. Waylon seemed unaffected by the whole incident. Willie was very concerned and confused by the whole experience.
This isn't the first time that my love of running and playing sports has lead to this kind of mishap (when my mom watched me play basketball, she used to say that I didn't need to mop the floor, they would do that after the game because I spent some much time sprawled on the court), and I am sure it won't be the last. When you love something enough, you're bound to incur some scars and bruises from that love. For me, it only makes me want to try to get back to a nice run more. It made running seem a little less available. I had to pay attention to taking care of my leg and foot in order to get them back into good shape.
This morning, braced and bandaid-ed I hit the trail again. Although I debated not bringing the dogs, I knew what our running time meant to them, too (although I did watch Waylon much more carefully). So, I did get to go running on National Running Day, and I got to take my running partners with me.
Even when you fall or fail, getting back up and being able to run again is the only option when it's really something you love.