Yesterday, I met the Fernwood Baptist van driven by its pastor, Bailey Nelson, at Victorian Lakes Mobile Home Community, community we have been working in and among for a little more than a year. Our plan was to distribute half of the supplies they had brought to this community and had been our plan since Monday after we found out that there were 10 mobile homes that were completely flooded and had to be evacuated after the Sunday flooding.
As we started dividing diapers and baby supplies, clothes, food, water, and clothes, members of the community began to show up.
We were unloading when a box truck from Lexington Interfaith Community Services showed up full of bottled water. We talked about the community's needs and between us all, we were able to determine that the community had been living on three bottles of water a day per trailer. Some of these homes contain eight people. The water in the community had been shut off because of the issues with the flooding, so although many of the families didn't lose anything, they were still in desperate need because of the flooding that had occurred.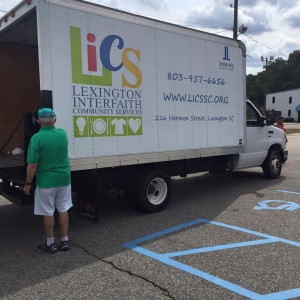 These are the others of the #SCFlood. They won't fill out FEMA forms. You won't see their stories on the news, but need help.
It would be easy to assume that the people of the community are lazy. There is water everywhere, abundantly available for free. So, why didn't the people from this community go out and get it? In some cases, there was a language barrier. In many other cases, the water distribution centers were based in Columbia, normally a thirty minute drive, in the midst of these circumstances a forty-five minute drive. This isn't possible for many who share cars or who depend on the bus system; a system that has been suspended or rerouted because of the flooding.
As the box truck opened the back, people from the community started showing up and before they asked for any food, baby supplies, or water for themselves, they first asked if we needed help unloading the truck. Before they took, they gave. After the truck with water was unloaded, we started making bags from the food donated, hoping to provide a variety of food to the households that were represented. And more and more families started showing up. As we gave, the families would take some things, but other items would be refused
No, I don't have kids. Let someone who has kids have that.

We have enough peanut butter. Leave that one for another family.
Even in the midst of their needs, they were watching out for members of their community.
After an hour, we had to head back to Emmanuel Baptist Fellowship to sort out supplies and get more supplies from the generous donation of FBC Orangeburg. We loaded up another trailer full of water, loaded up diapers, nonperishable food, toiletries, and children's clothes and headed back. When we got back to Victorian Lakes, all of the supplies we had left were gone except for adult clothing.
We restocked each station making sure that the residents in Phase I, who had had no flooding, but also didn't have running water, know that there was water available and headed to deliver to a couple more communities we work with. As I was headed home at 6:30, I drove past Victorian Lakes seeing if there was anything that I needed to take back to the church to redistribute. Again, the only items that remained were adult clothing.
I know that the people who want to give want to give to flood victims who lost everything, their homes and all their material possessions, but the truth of the situation here in the Midlands is that we are all flood victims. Businesses have been closed, which means people who are working hourly jobs have missed shifts, which means they won't be able to pay their bills. The buses are still running altered schedules, which means some people won't be able to get to their jobs or get to the grocery store. Many school districts have been out of school for a week with school cancelled again on Monday in some places, which means those families depending on free breakfast and free or reduced lunch have had to try to feed their children upwards of ten more meals than usual.
How many more communities are suffering in silence because their homes weren't directly hit by the flood, but their lives were?
The power of partnership is that when you give, you give to people in the community who are working tirelessly to make sure the communities in which they work are receiving needed assistance.
I explained to Bailey that our work might seems a little unorganized and unorthodox, but that after having worked in the community for a little more than a year, we had learned that if we showed up, we would learn what the community at Victorian Lakes needed. She responded, "That's perfectly fine. This is church."
Amen, Bailey. This is church: seeing the unseen; going to those in need and asking what else they need rather than assuming we know or assuming they can come to us.
This is church: partnering together to pool our resources so that we can make a bigger impact.