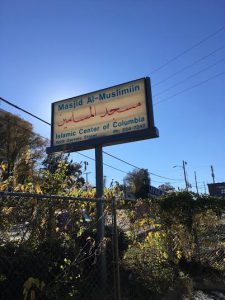 When Ben and I arrived to jummah prayer service at Masjid Al-Muslimiin, we were immediately welcomed by women of all ages. A teenage girl approached asking what Ben's name was and then helped me with my headscarf. As I looked around the community gathered in the courtyard, I was speechless that there was a whole community of faith who gathered right off the busy street of Garners Ferry in Columbia on Friday afternoons whom I had never encountered. How many times had I passed the sign and not wondered about this community?
And as we gathered in the small room designated for the women sitting on the red-carpeted ground, I was overwhelmed by the sense of community that was palpable in the body heat of the women and children gathered. I resisted the urge to keep Ben close and let him wander through the sea of arms and legs just as the children for whom this was their faith family were doing. He tried to follow another little boy out of the door, but before he escaped, a hand reached out to stop him. It was a hand of an elderly woman in a burka and as he turned to look into her face, her smile spread across her face. She passed him a lamb stuffed animal to play with while whispering to him in Arabic. He sat beside her mesmerized and I stopped and watched as I held back tears.
We insist on so many boundaries and barriers in our American culture. We insist and protect our privacy, our right to free speech, our right to worship or not worship, our rights to life, liberty, and the pursuit of happiness. We are missing so much life-giving, life-affirming love that comes from sitting together and reaching a hand out across those boundaries and barriers. Thanks be to God for this community of faith for their courage in inviting us, outsiders, into their community of faith for truly this is divine, mysterious, transformative, radical hospitality.