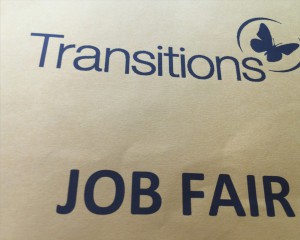 This morning, Sam and I (and Ben) served as volunteers for the Transitions Job Fair. Transitions is an amazing ministry in Columbia that helps aid and assist people who find themselves without homes. We were honored to be asked to help serve in the computer lab to assist clients as they created their resumes and tried to fill out applications online.
As I was working with a couple of different people, I was overwhelmed with the hopelessness that surrounded them. They explained to me they had always worked and as I urged them to write their work experience down on their resume, they admitted they were embarrassed. I gently prodded and asked why and two of the women I spoke to said the same thing, "Because it's been so long since I've had a job." I tried to encourage them that many places understood the economic climate and to still try to put resumes out there, but my words felt empty.
I sat beside them more aware of my own privilege than I have been in a long time. There are so many things I know. I know how to type. I know how to check email. I know how to look for jobs online. I know how to format an email as I am in communication with potential employers, but how and when I had learned these things.
When you realize how truly privileged you are, you have two options. You can maintain and continue that privilege by not giving back and ignoring those in need or you can do something whether in word or deed to try to bridge the gap of privilege our society has created. There are always opportunities to serve and to come beside those in need.
It's just about popping up where need is.