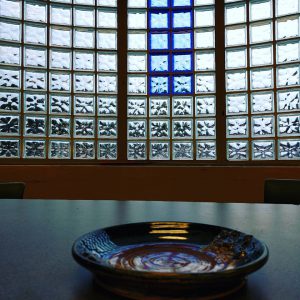 I didn't grow up in a worship tradition that included Prayers of the People. Perhaps it was because the congregation was so large that ministers and worship leaders didn't know how to manage and plan for the time it would take for people to utter prayers before God and their community of faith. Instead I grew up with a Pastoral Prayer: one voice leading a prayer on behalf of God's people. I've found this is common in larger congregations, but I've fallen in love with the beauty and authenticity of God's people uttering requests, praises, and concerns before a community of faith and before God. I love that the role of the minister is not the voice of the people in prayer before God, but rather that the minister or worship leader joins with the people in praying.
This is why at ministrieslab, Prayers of the People are a part of the services we lead. And today the prayer uttered by a first-time attender at our worship service at Transitions was so authentic and so compassionate that it reminded me how important the voice of God's people in worship is:
I pray for the people who look down on us because we are homeless and think we don't have faith. I pray that we will continue to have our faith strengthened even when people look down on us.
Lord hear our prayers.
And may this prayer remind us to see and hear God's people whenever and wherever we find them rather than thinking God's people are only in our own faith communities.
Let it be. Amen.