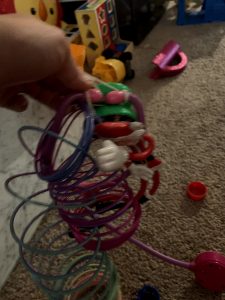 Eastertide has always been a jumble of emotions. We bask in the good news that Christ is Risen and yet we know that Christ is about to leave again. It's a tangle of hope and waiting and wondering.
I don't know about you, but that's kind of like life right now. My four-year-old brought me this tangled up compilation of toys asking me if I could get the yoyo out. I looked at it for just a moment before I thought, "Yes. This is what life feels like right now. All tangled up."
Each day can move so quickly from being calm and present to being scared and anxious. We are living and yet we are also constantly asking ourselves how much longer do we need to live like this. We are hoping for a new life.  A life where there is testing and answers and something resembling our old life at least just a little bit. But we don't know when that will be and we don't really know what that will look like.
It's all tangled up.
When I started trying to free the yoyo, I realized I had to first take out the Santa Claus and then I had to get the stethoscope free. When we start listening to ourselves, our hearts, this is kind of what we find. We start looking for peace and find our fear. We start looking for joy and find our disappointment. We start looking for hope and find helplessness. It can be daunting to try to search ourselves to find the yoyo that has been dictating our days.
This untangling, this time of pulling things out and looking at them is so very important to caring for ourselves and giving our souls time to breathe. Move slowly and gently. We may be tangled up right now, but that tangle is all of us in one place just waiting to be guided to freedom.